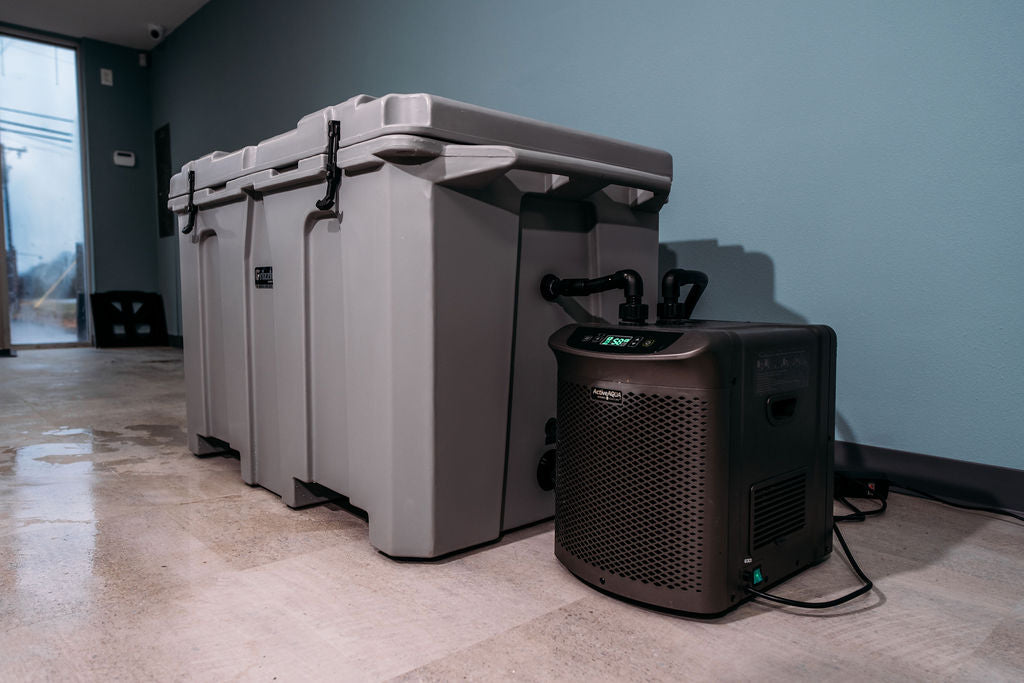 What's Included
Each ModPlunge comes standard with the following:
Cooler/Tub
Chiller
Pump
InkBird for Temperature Control (Hot/Cold Only)
Heater (Hot/Cold Only)
Filter Housing
Electrical Box
Power cord
3x Filters
Water Hose Filter
All hoses and fittings prepped for easy assembly
Shipped weight without step is 220lbs, with step 240lbs
39 degrees is ice cold for plungers of all levels.
All the water in the ModPlunge will pass through the filter 5+ times/hour keeping it fresh.
The ModPlunge uses a standard 110v outlet, and it can pull up to 7 amps at a time. Therefore, we strongly recommend a dedicated breaker.
Your ModPlunge assembles in 10 minutes with no tools or plumbing required.
With its 2" thick walls, polyurethane injected interior, and hard lid, Modplunge's
insulation sets it apart from the competition. This insulation makes for fast cooling, less
energy, and the ability to perform regardless of ambient temperature.
Dimensions of Our Modtub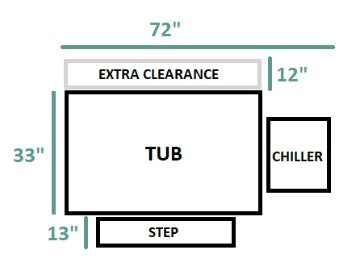 Please note that you need to leave at least 12" of clearance behind the tub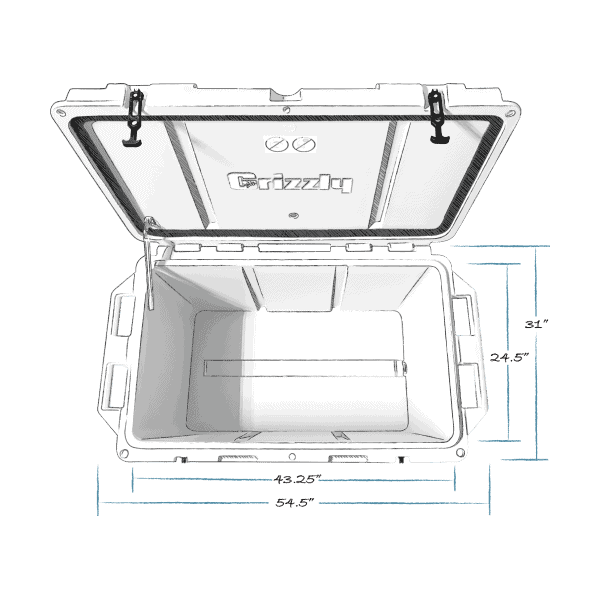 Dry weight: 91lbs
Filled weight: 750lbs
Will I fit in the ModPlunge?
This is our friend Scott who is 6'7" 260lbs. He fits comfortably in the cooler, and he is an avid cold plunger. If he can fit, we believe most anyone can fit!
Yes, but if outside we recommend putting it under a covered area like a patio, umbrella, or under a deck to protect it from the elements. If temperatures get below freezing where you live, you will need to get the chiller bypass hose and bring the chiller inside during freezing temperatures.
The water can get as cold as 39 degrees. When set to 39 degrees the water will initially cool down to the set temperature of 39, and then it will enter standby mode until the water gets more than 2 degrees above the set temperature. Therefore, when set to 39, the water will stay between 39-41 degrees.
There are two different components to keeping the water clean: filtration and sanitation. For filtration, you need to keep your filter cartridges fresh so they do not get clogged and prevent flow. Depending on usage, you typically need to change your filter cartridge every 2-4 weeks.
For sanitation, we recommend purchasing our Sirona chemicals, and following our sanitation guidelines. If you follow these guidelines and change the filters appropriately, your water can stay clean for 3+ months.
Because of the superior insulation, the ModPlunge is very efficient. Keeping it at 43 degrees for a month in Texas summer heat, it only used 115 kwh which at the national average of $.23/kWh is $26.45. Therefore, the ModPlunge cost less than $1/day to operate.
It should cool 3-5 degrees/hour on initial fill up.
No, we only want filtered water coming from the hose through the hose filter to fill up the ModPlunge. Ice is unfiltered and will cause your filters to clog quickly. Also, it can prevent flow through the pump and chiller.
No, we sell all of our units with the same configuration as a complete unit.
No, we fulfill orders in the order that they were placed.
The ModPlunge will be delivered via LTL freight on a pallet. Once it is picked up from our facility in Texas, the freight carrier will call, text, and/or email you to schedule the delivery appointment. They will drop the pallet off curbside at your house, and it is your responsibility to move it into place and dispose of the packaging.
Included with your ModPlunge is an instruction manual on how to put it together as well as a QR code to a video showing how to assemble. It is best to set up with at least two people, and it should take about 15 minutes to put together. The only tools required are a box cutter or scissors to cut away the packaging.
IMPROVE YOUR HEALTH AND BOOST YOUR RECOVERY